Kuala Lumpur, 16th December 2021 – Today marks the beginning of an almost 12-month journey the ecosystem has embarked on since it's ideation by founder, S. T Rubaneswaran late last year as the pandemic had halted the business ever since its opening in December 2019.
In March 2020, Mr. Ruban took a risky chance of buying his shares from listed company, Censof and scaled down to an SME as he started envisioning, studying and building an end-to-end ecosystem for talent and start-up acceleration.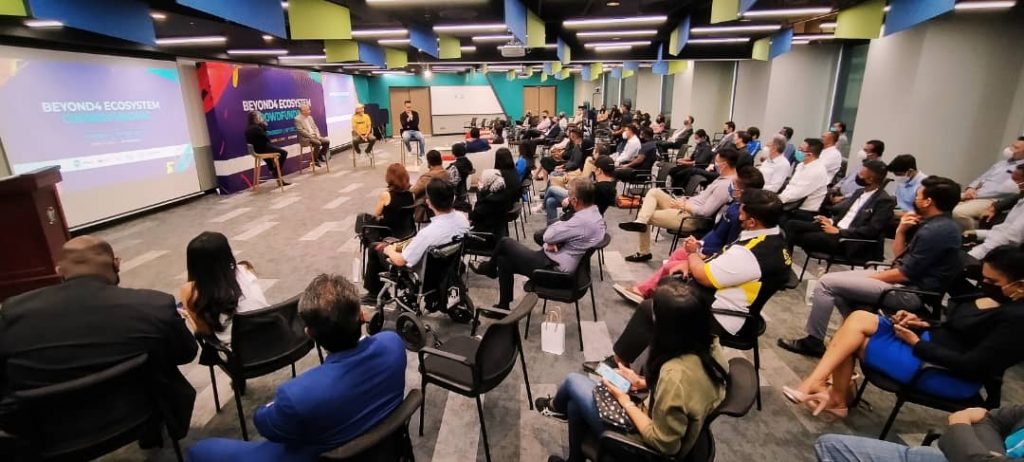 This came about as a result of almost 2 decades in the training & upskilling industry with Knowledgecom, Mr.Ruban identified the gaps with talent and the slow-moving start-up landscape as a result of lack of innovative and specialized talent in the open market.
Backed by our ecosystem partner, Pratian Technologies from India and a dedicated team from Malaysia, they embarked on a 10-month journey in building the respective accelerators' business models and intelligently knitting it together as an ecosystem with a cumulative added value.
Mr.Ruban's 7 years' experience with Censof, gave him a solid handle on governance and building a tiered-framework which allowed him to ideate the BEYODN4 Talent Cloud, a talent funnel that accelerates talent potential at all stages through the identification, acceleration, incubation and deployment of talent, be it in the ecosystem or propelled as scalable innovative start-ups.
As he went through multiple iterations of building a scalable and profitable business model, Mr.Ruban started connecting with potential partners to build hubs across Malaysia, government agencies to support the talent and start-up landscape, partner with investment opportunities as well as industry alongside experts to curate high-output programmes in line with respective accelerator goals.
Mr.Ruban then started knitting the verticals, hubs and accelerators as he studied the Malaysian talent and start-up market, extending the ecosystem value throughout Malaysia and the region. He then started mining for 5 pilot start-ups to accelerate with a zealous goal of accelerating 5000 specialised talent and 50 start-ups over the next 36 months.
With a model like no other in the region, Mr.Ruban was confident to spotlight the ecosystem and open it to niche investors that will be able to add value back into the ecosystem creating an infinite loop of knowledge, resources and monetary flow.
The BEYOND4 Ecosystem Crowdfunding event was organized with closed invitation to selected potential investors as Mr.Ruban pitched his ideation, journey and scalable business models to 70 potential investors with many additional streaming in virtually. With the Ecosystem valued at RM50Mil, BEYOND4 has released 5% of our shares to invite investors who believe in our model to make a change in Malaysia.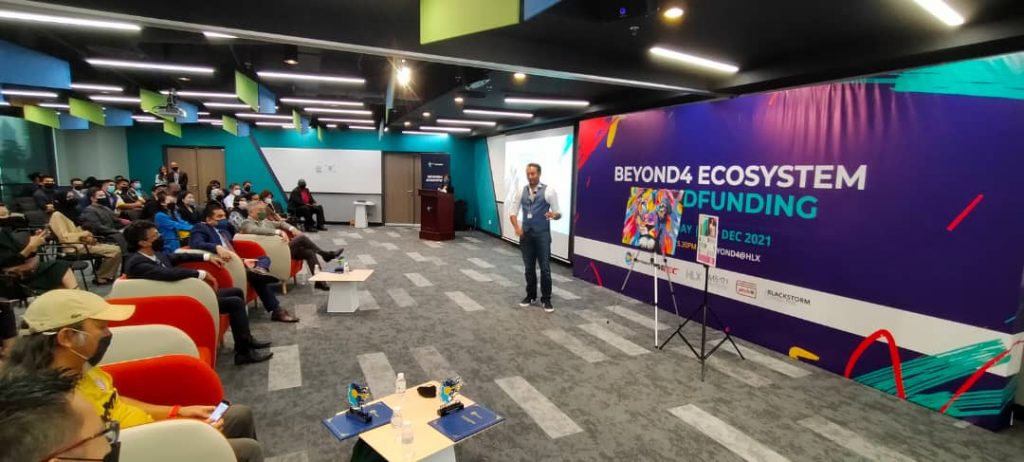 The event also featured the MOU Signing and Exchange ceremony between BEYOND4 and PitchIn, Malaysian Business Angel Network (MBAN) and Blackstorm Consulting who joined us all the way from Singapore. This MOU Exchange features the opening and onboarding of investment opportunities for the BEYOND4 Ecosystem and Start-ups Accelerated by the Ecosystem moving forward.
Being the Humanitarian he is, Mr. Ruban together with Guocoland featured a special fundraising for a 2-time stroke survivor, Ratha Renganathan which initiated her recovery journey with Art. BEYOND4 pitched to raise RM20,000 in setting up a virtual teaching corner in her home with trainers to assist her on using the technology and leveraging on social media to extend her revenue streams while Guocoland sponsored Ratha an exhibition space at DC Mall in realizing one of her dreams.
Interested investors can head over to PitchIn Platforms to dive deep into the BEYOND4 Intelligent Multi-Tier Accelerator Ecosystem and pledge to join the BEYOND4 Ecosystem. If you are also interested in realizing Ratha's dreams together with us, click the link below to read her story and be inspired.