BEYOND4 was happy to invite over 100 attendees to the Demo Day of the Pahang Innovative Startup Accelerator Cohort 3, held in University College of Yayasan Pahang. The Demo Day capped of a very successful cohort of startups, with 21 startups from across West Malaysia's largest state were onboarded to the programme to find support in build their ventures into high potential and profitable ventures.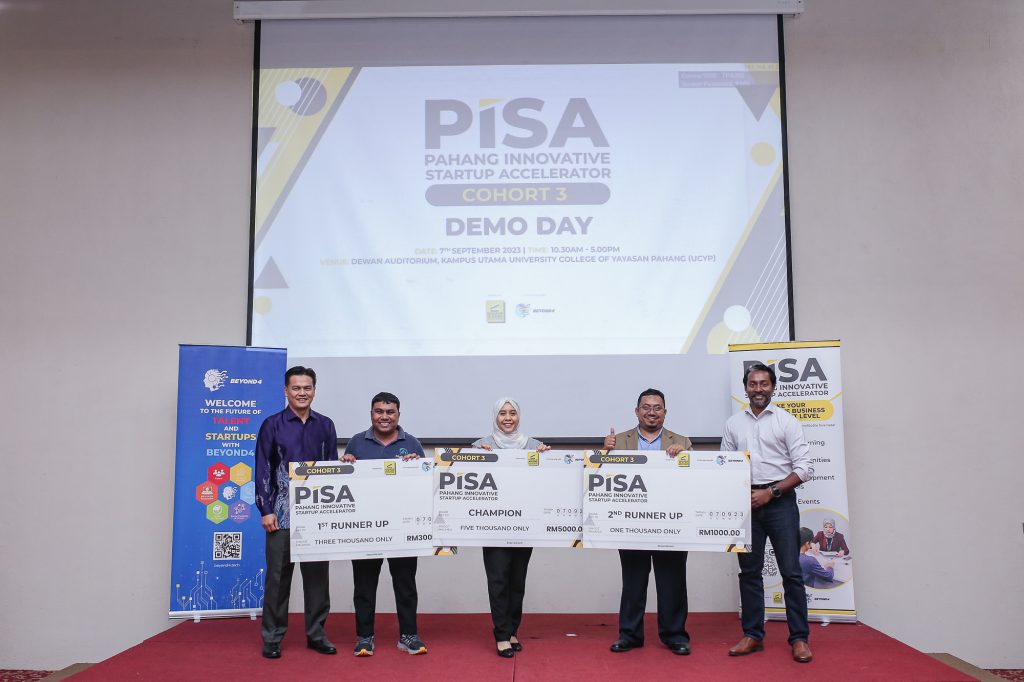 With the Top 10 to pitch, the crowd got the opportunity to find out more about the tremendous strides made in the past year in building a sustainable and integrated startup ecosystem, with 39 startups supported through PISA, with Masterclasses, Mentor Sharing sessions and the Demo Day being held in Kuantan for the first time.
Fokuz.GK
Inventors of a wearable device with machine learning, that will help goalkeepers to always stay focus and ready during football games, to enable them to perform at their highest potential, consistently.
Dream Plus
E-learning courses for personal and professional success. Unlock vital skills and processes, making learning convenient and effective for all. Lets welcome them on the stage!
Beruang.io
An online interior decor platform that provides a seamless, flexible, fast and affordable interior decor services for the general market.
Craft Guru
Craft Guru is dedicated to delivering top-notch education focused on computational thinking interventions and human capital development.
MyRehat
My Rehat Provides short-stay accommodation, activities and food experiences in Malaysia.
UMORIE Graphene Battery
UMORIE is Revolutionizing the industry for a sustainable future throught Innovation of energy storage with graphene batteries. Enhanced lifespans, faster charging, higher energy densities.
kuasaBiome
Enhancing Infant Health with Advanced Gut Microbiome Monitoring through Sequencing
Flexijobs
An end-to-end on-demand temp staffing & workforce management platform.
MNR Multitech
a High-performance, eco-friendly grease series, Tested to ASTM and NLGI standards for superior quality and reliability.
Qarbotech
Qarbotech upcycles agrowaste to produce light capturing quantum dots to increase crop productivity for farmers through enhanced photosynthesis
In the end, the Top 3 startups were crowned, with UMORIE finishing as second runner up, MyRehat placing as first runner up and Qarbotech emerging champions for the 3rd cohort. We look forward to the next cohort of the programme upcoming in 2024, and are excited looking towards the future in which Kuantan and larger state of Pahang can become an attractive hub for entrepreneurs and startups to launch their ventures.