Digital-first strategies driving partner ecosystem expansion
Penang, 15th December 2021 – BEYOND4, Malaysia's Upcoming Ecosystem Accelerator, is integrating the digital landscapes of Malaysia once again. BEYOND4 is pleased to announce the first collaboration between Malaysia Digital Economy Corporation (MDEC) and DIGITAL PENANG, who are leading partners in the Digital Economy of Malaysia.
With the signing of the MOUs today, a Digital Economy Partnership is being rolled out, which is the first of its kind agreement that promotes innovative approaches and collaborations in digital trade, encourages ideas and mentoring, supports funding opportunities, and addresses challenges by digitalisation.
BEYOND4 as an enabler of the digital ecosystem, will inject neutral, non-competing, open vendor eco-system that specialises in accelerator platforms on multiple industry verticals for the post digital era. BEYOND4's objective is to drive digital transformation as a value exchange to foster synergy among partners to innovate and collaborate through MULTI-TIER ACCELERATOR platforms. BEYOND4's main agenda is to implement the innovation and start-up accelerator programmes throughout Malaysia.
Therefore, a partnership with MDEC and DIGITAL PENANG in this integrated digital ecosystem will strive to make Malaysia a global powerhouse for innovations.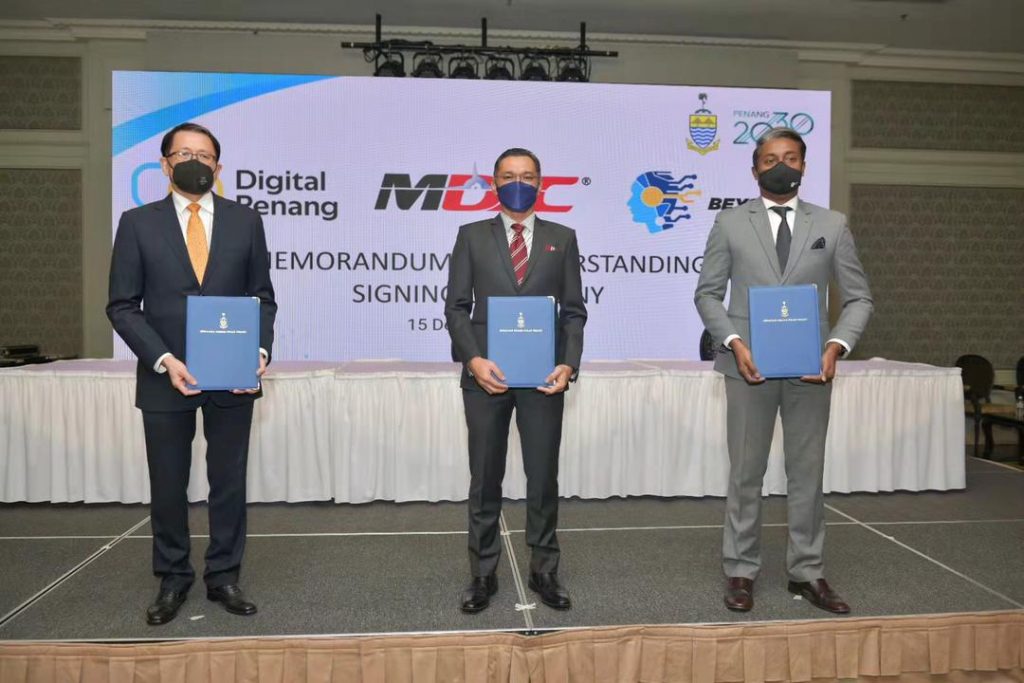 MDEC will provide mentorship network to facilitate BEYOND4's talent development initiatives, facilitate funding opportunities, provide market access activities, and co-create and support the digital ecosystem structure to assist startups and upskilling for the digital industry.
"Further adoption in the areas of AI, IOT, Blockchain and Robotics & Automation Systems will provide new means for startups to develop new business solutions for the market. The collaboration between MDEC, Digital Penang and Beyond4 signals another step forward in uplifting the Penang startup ecosystem through federal, state, and private collaborations.
The sharing of resources will help startups expedite ventures and reduce go-to-market lead time, bringing us closer towards establishing Malaysia as the digital hub of ASEAN and achieving the goals of the Malaysia Digital Economy Blueprint (MyDIGITAL)," said Mahadhir Aziz, CEO, MDEC.
This Malaysia's 1st Digital Economy Ecosystem will be a great start to solving 21st century problems among Digital Creators (talents for high-end engineering, innovation and R&D), Sustainers (talents that will sustain and support the innovation and the technology), Disruptors (talents for applying Digital Technologies to disrupt and build new markets) and Humanisers (talents that has to focus on technology, becoming humane, creative, empathetic, curious and ethical) with research and innovation across verticals and helping industry players scale up.
"We always support the accessibility of digital innovation for all. Today, everywhere we look, the technology industry is undergoing a digital paradigm shift that impacts businesses of every sorts. With this profound transformation comes an unprecedented opportunity to deliver solutions offering greater value to the industry players, businesses and corporates. We want to bring the start-ups, fortune 500s, primary education institutions, established universities, municipal councils and federal governments into our accelerator ecosystem that will be unique and one of a kind.
Hence, we accelerate digital change through a wide range of international and local partners to add a robust platform that provides flexibility and preference when you align your business models. BEYOND4 will be investing between RM1million-RM5Million to execute this ambitious project nationwide. The BEYOND4 HUB @WCOE for learning, training, upskilling and accelerator programmes is our 2nd Hub. The 1st BEYOND4@HLX learning, training and accelerator institution is headquartered in KL. BEYOND4 will continue to identify, accelerate and incubate talents" stated S.T Rubaneswaran.
Today, we witness a digital economy partnership that will empower people and businesses to achieve their greatest potential by inspiring creativity, mentoring, and nurturing talents and bringing ideas to life. As the digital ecosystem continues to grow, so do the opportunities. BEYOND4 together with MDEC and Digital Penang are pushing industries forward.