Petaling Jaya, 16th December 2021 – BEYOND4 seals yet another exclusive partnership with TalentCorp and Yayasan Pahang denoting the co-collaboration between government agencies and industries invested in accelerating and propelling talent in the open market towards specialization and innovation.
Marking the 5th Memorandum of Understanding of the year for the BEYOND4 Ecosystem in procuring esteemed partners to drive the respective accelerator goals, this exclusive partnership sees BEYOND4 and Yayasan Pahang in joint partnership curating programmes and initiatives to drive talent acceleration including upskilling, re-skilling and certifications with extended opportunities to venture into the Innovation & Start-Up scene via the BEYOND4 Innovation & Start-Up Accelerators.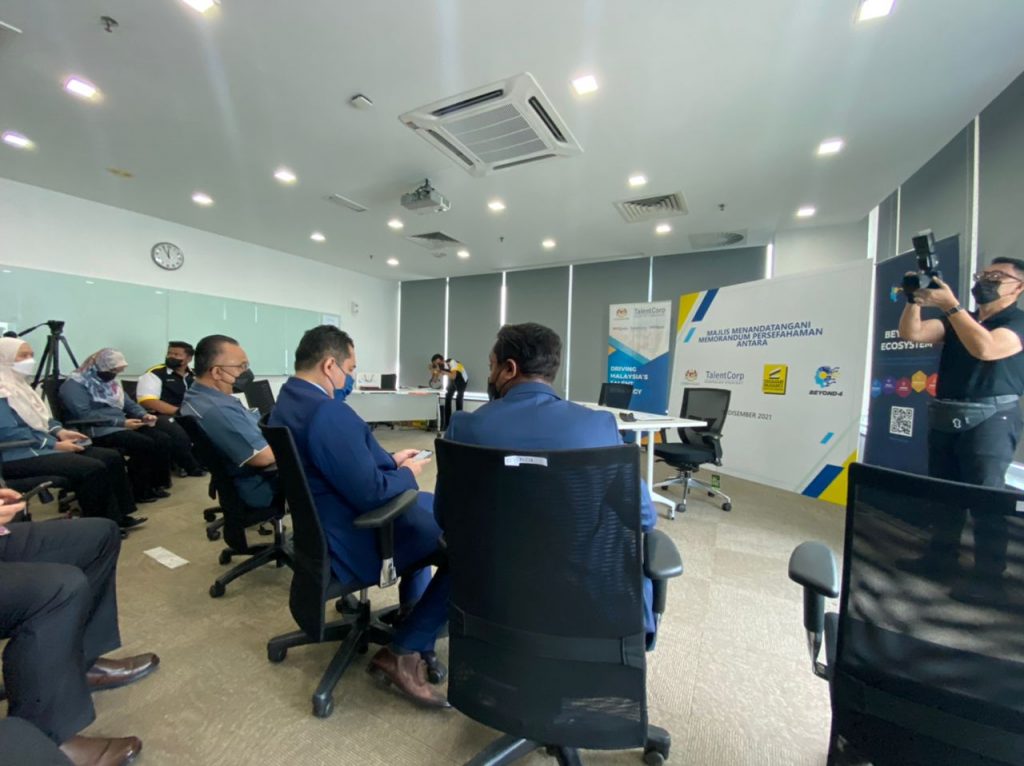 Talentcorp will support programs and initiatives designed by both BEYOND4 and Yayasan Pahang through expertise, marketing, and funding. This partnership will assist BEYOND4 in reaching into smaller districts and towns, more so in Pahang to provide Talent Acceleration via the Education, Skills and Career Accelerator hence increasing the number of specialized talent in procuring high-end jobs creating a domino effect on the economy with more individuals with high-income jobs whilst sparking the element of Innovation and Entrepreneurship to drive the Start-Up Landscape.
Represented by Mr. Thomas Matthew, CEO of TalentCorp and Ustaz Ab Razak Abu Musa Saari, COO of Yayasan Pahang, the event was a blissful one as CEOs exchanged MOUs and joined us for the BEYOND4 Ecosystem Crowdfunding event later that evening.
BEYOND4 has successfully secured 15 partners and counting with programmes and initiatives spanning across 8 verticals, all which we have achieved in less than 12 months. Kudos to ana amazing dynamic team led by a visionary, Mr. S T Rubaneswaran.